A Deeper Look Into Crown Mouldings
Posted by WEB DEVELOPER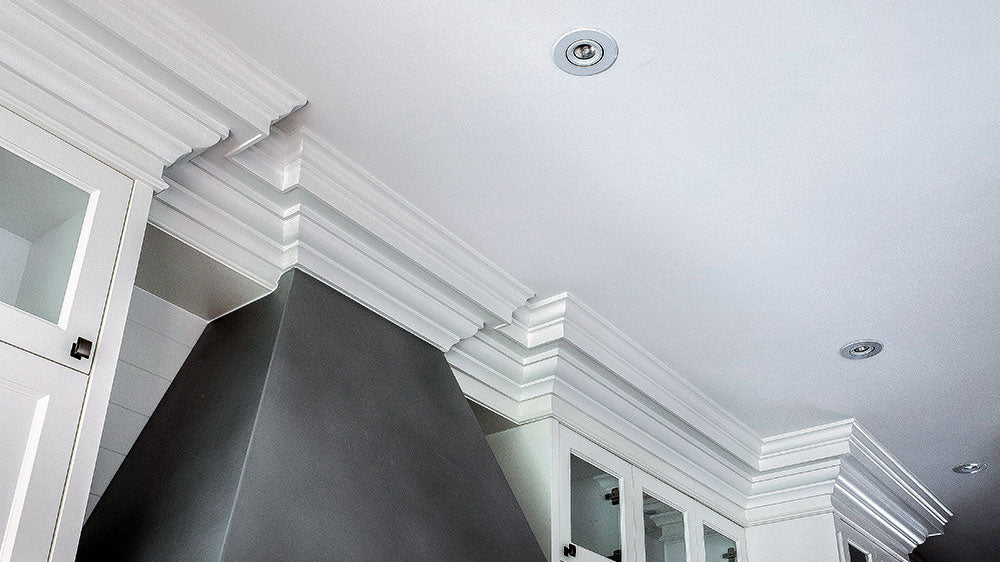 Crown Mouldings
For centuries, plaster was the preferred material for manufacturing crown mouldings. While prized for its aesthetic appeal, plaster's hefty price tag and difficult installation process make it a prohibitive moulding option for the masses—let alone DIY enthusiasts. Over the years, numerous products were developed in an attempt to imitate the look and feel of plaster, but until very recently, they've all come with baggage. Common problems—rooted in the physical properties of materials used to manufacture these products—include shrinkage and expansion with changes in humidity, temperature, and minor settlements. This tends to cause separation in joints, which leads to noticeable gaps and pulling away from the wall or ceiling. Attempted repairs are only a temporary fix, since the same issues persist throughout the product's life.
Moreover, most walls and ceilings are not plumb and straight, which can become obvious (and frustrating) during installation. Joining two pieces—a seemingly straightforward task—can become dishearteningly difficult when the walls cave in or out. Attempting to follow the wall contour and force mouldings into place with screws or nails can exacerbate warping issues in the long run. Corners present a whole new set of challenges since walls that meet at perfect 90-degree angles are extremely rare. When mitered pieces are installed on non-90-degree corners, the difference in angles creates consistent tension that will eventually cause the mouldings to pull away from the wall or separate from one another. Unappealing gaps are a practical inevitability, and securing them in place is no more than a band-aid solution. And since most of these materials cannot be filled and sanded, flawless, continuous surfaces are out of reach for the DIY homeowner.
NU Crown Mouldings manufactures modern-day plaster mouldings—the only product that rivals traditional plaster. Born out of a combination of innovative new technology and a modified old approach, NU crown mouldings boast beauty, competitive prices, durability, simple installation, and a manufacturer's lifetime warranty. Flexible, durable, and extremely forgiving, these mouldings follow the curvature of imperfect walls and ceilings. They're easy to handle, can be cut with a utility knife for a better fit, and are sandable, guaranteeing a smooth finish.
They differ significantly from other plaster alternatives on the market, most of which are made of uncoated Styrofoam. For NU Crown Mouldings, this is just a jumping-off point. Expanded Polystyrene (Styrofoam) is used as a core, and two or three layers of proprietary flexible modified plaster are applied overtop to create durable, long-lasting, and spectacular looking mouldings.
Mindful of all known installation issues, these types of crown mouldings are accessible to both inexperienced do-it-yourselfers and highly skilled professionals. No special tools are required, and even primer is unnecessary. Simply finish with quality flat paint and enjoy gorgeous mouldings for a lifetime. Collection 2019 Sale 70% Off Title for image